You must bring your own booth furniture, decorations, racks, shelving, etc… Only booth space will be provided by the event organizers. One plug for power will be provided to each booth. No water or other services will be provided. Trash receptacles will be onsite and will be emptied as needed. You must bring your own electrical cords and surge protectors.  Electrical cords must meet state codes for outdoor use.
 ALL electrical cords will be inspected for compliance by event inspectors. Food Vendors must pass state and local Fire Codes.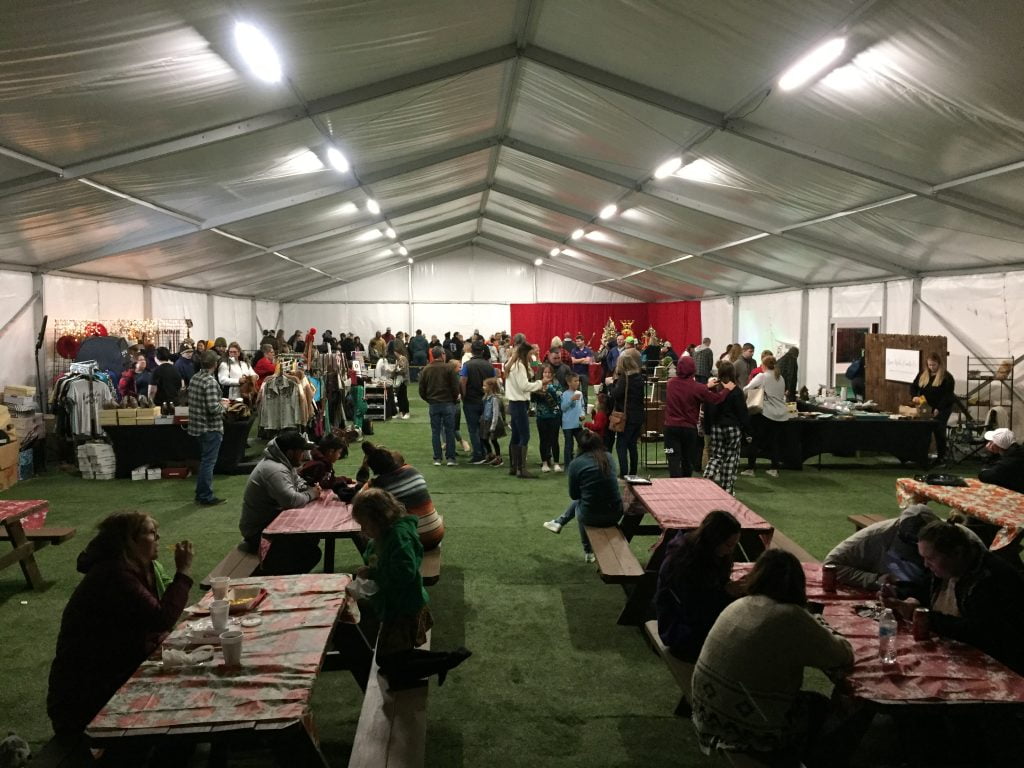 No roaming around selling will be allowed. Booth sizes are 16-foot by 10-foot and all selling must be conducted within your assigned booth area. Any booth assignment changes must be approved by event organizers.  If you need additional space you can purchase an additional adjacent 16-foot by 10-foot space if available.
If you are chosen as a food vendor, you must provide the event organizers with the following items as soon as possible to reserve your spot – Your certificate of insurance, a copy of your Johnson County Food License, and a color picture of your booth, trailer, or truck.  All required forms MUST be included with the vendor fee. All forms must be sent to Christmastime in Texas, Attn: Event Coordinator, 5801 County Road 904Z Joshua, TX 76058. Applications will not be accepted after September 1st, 2023, or if all spaces are full whichever comes first. Lack of compliance with any of these requirements may result in rejection of the application and entry into the event. Incomplete applications will not be accepted.
After you have received an email that you have been approved as a Christmastime In Texas vendor, please navigate to the Shop page on our website to make your down payment or click the "Become A Vendor" button below. An initial nonrefundable down payment of $300 is required to hold your spot. The remaining amount of $600 will be due prior to September 1st of the current year.
Please provide as much information as you can regarding your product(s)
Set-up times available – 12:00 p.m. to 6:00 p.m. on Wednesday November 23, 2022 and 
Thursday November 24th from 12:00 p.m. to 5:00 p.m.
Thursday November 24th, 2022 – Ready for business at 5:00 p.m. and remain until 10:00 PM each night. If there are still lines to get in to the park after 10:00 we will remain open for those customers that were in line before 10:00 PM.
Vendors ARE required to be at the event on these dates in 2023: 
November 23, 24, 25, 26, 30
December 1, 2, 3, 7, 8, 9, 10, 14, 15, 16, 17, 18, 19, 20, 21, 22, 23, 24, 25. 
Vendors ARE NOT required to be onsite on these dates but are encouraged to be there if possible:
November  27, 28, 29
December  4, 5, 6, 11, 12, 13, 26, 27, 28, 29, 30, 31
Take-down time –  NO Early take-downs will be allowed.  Loading & unloading will only be allowed before or after Event operating hours.   
Contact Us For More Information!
Don't miss out on the magic of Christmastime in Texas! Plan your visit today and experience the joy, wonder, and beauty of the holiday season like never before. Contact us to learn more about our park or to book your visit today!